1968 Hansen "Superlight Pintail" Vintage Surfboard
1968 HANSEN "SUPERLIGHT PINTAIL" VINTAGE SURFBOARD, serial #18396 , 9'2" X 22 ½" , BLACK HIGH DENSITY ¾ L WEDGE STRINGER, BASS STICKS – BLACK FIN, NICE, NOT WORN DOWN. WHEN IS THE LAST TIME YOU SAW A LAMINET LIKE THAT ON A SUPERLIGHT/ BLACK PIGMENT PIN LINES? IT'S BEEN SURFED, BUT VERY WELL TAKEN CARE OF. DEFINITELY A STIK FOR YOUR QUIVER – COLLECTION. AT TOP OF THE LIST ALONG WITH A FEW OTHER STIKS DIFFERENT MAKES AND MODELS, THAT WERE THE CADILLAC RIDES OF '67 AND '68 – SHAPED BY BARRY DELL. THESE SUPER LIGHTS WERE UNIQUE WITH THEIR PROWESS ON THE WAVES.
ALL GLARE AND REFLECTIONS ARE SIMPLY THAT. ALL MY BOARDS ARE PRETTY MUCH SPOTLESS.
Price: $2,650.
Deck and Bottom of 1968 Hansen "Superlight Pintail" Vintage Surfboard
Click on images for larger view
Fin of 1968 Hansen "Superlight Pintail" Vintage Surfboard
Click on images for larger view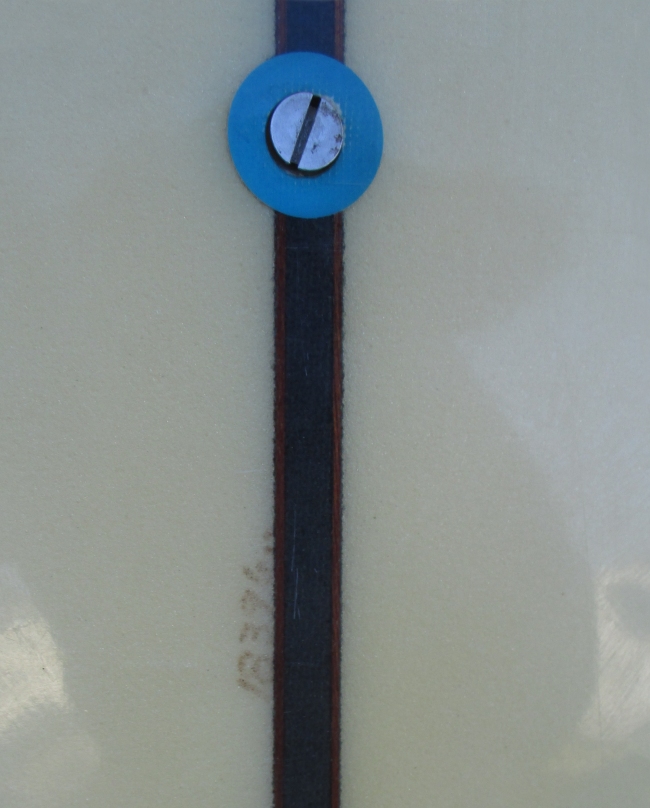 Deck screw and Serial number of 1968 Hansen "Superlight Pintail" Vintage Surfboard
Click on images for larger view

Sideview of 1968 Hansen "Superlight Pintail" Vintage Surfboard
Click on images for larger view