1968 Bing Pintail Lightweight Vintage Surfboard
1968 Bing – Pintail Lightweight Surfboard – 9' 2" x 23 1/2". Kinda looks like a Lotus outline because it's short. 50/50 rails to sharp turn down at the tail. Very nice pintail and box. Fin is original.
Never touched by anyone, just minor ding repair. All original. 8 condition. Killer 60's vintage stik. Weights good, fatter rails, a bigger guy would enjoy carving on this vehicle.
Price: $2000.
Deck and Bottom of 1968 Bing Pintail Lightweight Vintage Surfboard
Click on images for larger view
Fin of 1968 Bing Pintail Lightweight Vintage Surfboard
Click on images for larger view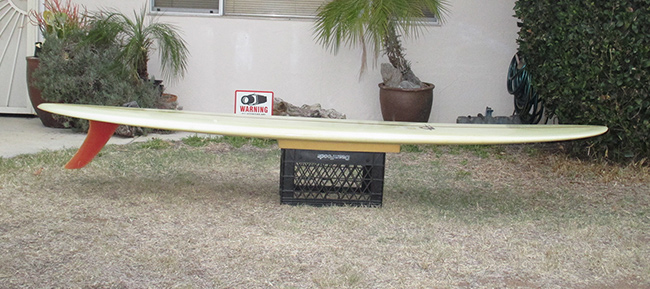 Sideview of 1968 Bing Pintail Lightweight Vintage Surfboard
Click on images for larger view