1968 Bing "Bakus" Pintail Lightweight Vintage Surfboard
1968 BING "BAKUS" PINTAIL LIGHTWEIGHT VINTAGE SURFBOARD – WINE GOD LAMINET, 9' X 23 ½". HALF LONG BOARD & TRANSITION – PINTAIL LT. WT. DESIGN. ALL KINDS OF COLOR, ACID SPLASH BOTTOM TO CUTLAP ON DECK. SEMI RESTORED, ORIGINAL LONG BING FIN (ALSO ACID SPLASH). A ONE OFF. WAVE SET BOX.
ALL GLARE AND REFLECTIONS ARE SIMPLY THAT. ALL MY BOARDS ARE PRETTY MUCH SPOTLESS.
Price: $3,000.
Deck and Bottom of 1968 Bing "Bakus" Pintail Lightweight Vintage Surfboard
Click on images for larger view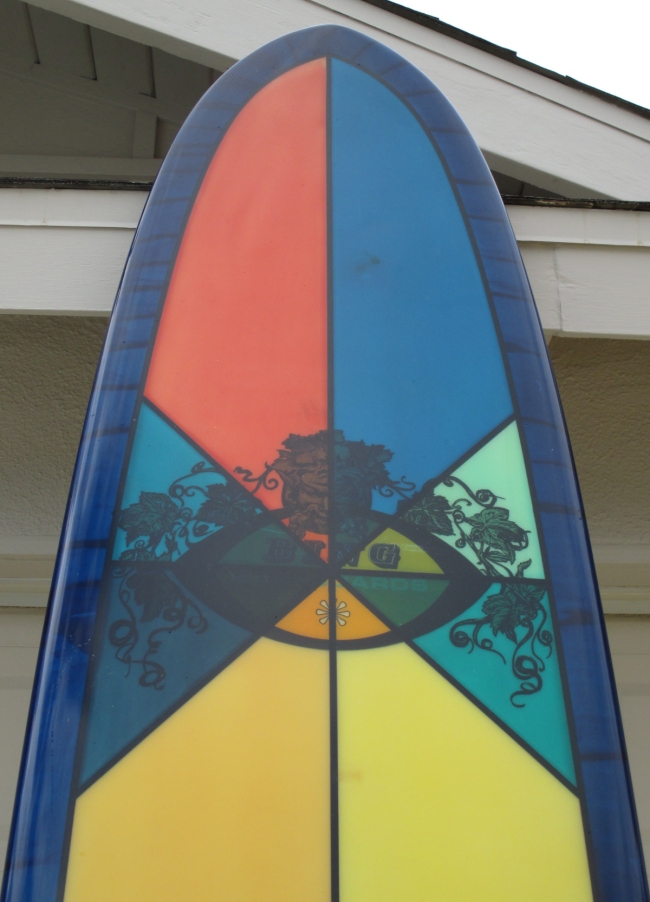 Logo of 1968 Bing "Bakus" Pintail Lightweight Vintage Surfboard
Click on images for larger view
Fin of 1968 Bing "Bakus" Pintail Lightweight Vintage Surfboard
Click on images for larger view

Click on images for larger view