1967 Challenger Eastern Vintage Surfboard
'67, 3 STIK NOSE RIDER – 9' 8" X 23". PRODUCED BY CARL "TINKER" WEST. STARTED HIS SURFBOARD BUSINESS IN SAN DIEGO, PACIFIC BEACH. TINKER WAS THERE FROM '61 –'65 AND SOLD THE BUSINESS TO BOB THOMAS. BILL BAHNE WAS SHAPING FOR TINKER '61 – '64. BOB THOMAS PRODUCED SEVERAL MODEL BOARDS THRU THE '60'S WITH THE HELP OF SHAPERS LIKE BILLY CASTER. BOTH CASTER AND THOMAS ARE GONE NOW.
IN 1965 TINKER MOVED TO N.J. AND OPENED "CHALLENGER EASTERN" AND STARTED SHAPING, BUSINESS AS USUAL. THE RAILS ON THIS BOARD ARE SWEET AND THINNED, AND A SLIGHT DISH UNDER THE NOSE FOR NOSE-RIDING. VERY NICE BLUE GLASS FIXED D-FIN ALSO, NOT TO BIG, PERFECT, WITH MATCHING BLUE GLASS NOSE – AWESOME SHAPE .
I WANTED TO ADD THAT TINKER WAS BRUCE SPRINGSTEEN'S AGENT & MANAGER WHEN SPRINGSTEIN FIRST STARTED AND WAS STARTING TO CLIMB THE RANKS.
Price: $1,250
Deck and Bottom of of 1967 Challenger Eastern Vintage Surfboard
Click on images for larger view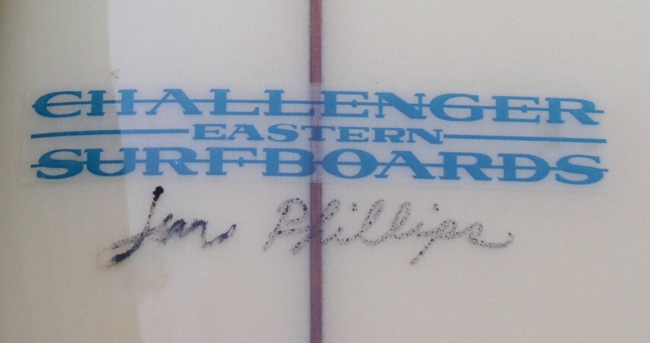 Logo of of 1967 Challenger Eastern Vintage Surfboard
Click on images for larger view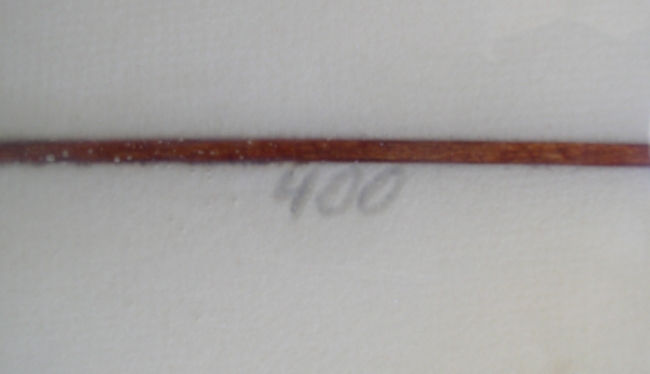 Serial number of of 1967 Challenger Eastern Vintage Surfboard
Click on images for larger view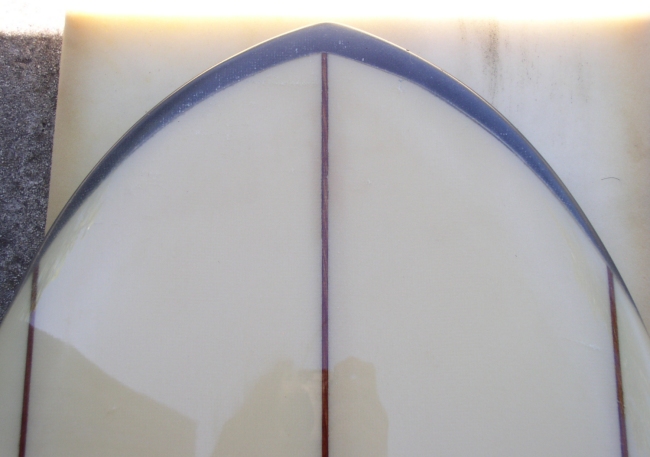 Nose of of 1967 Challenger Eastern Vintage Surfboard
Click on images for larger view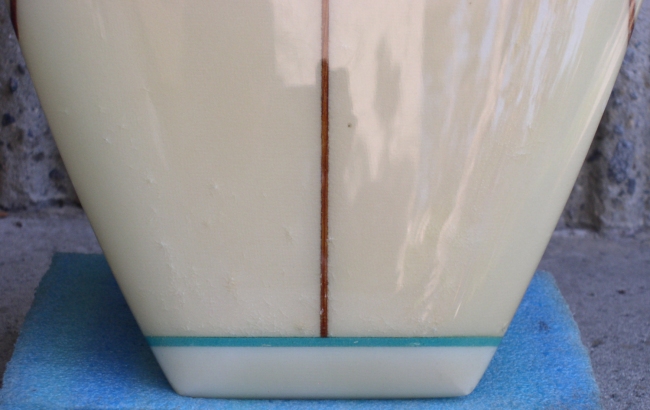 Tail of of 1967 Challenger Eastern Vintage Surfboard
Click on images for larger view
Fin of 1967 Challenger Eastern Vintage Surfboard