MANZANITA IS THE MOST BEAUTIFUL WOOD. IT GROWS IN THE MOUNTAIN AREAS OF THE WEST COAST AND ALSO HIGH DESERT AND SOME LOW DESERT. THERE IS TREE AND BURL MANZANITA.
MANZANITA IS A PROTECTED TREE. IT IS ALSO ONE OF THE HARDEST WOOD. ALL THE MANZANITA I HARVEST IS PERMITTED. THE PIECES ARE THEN LEVELED, FUMIGATED AND SANDBLASTED. SANDBLASTING REMOVES THE BARK FROM THE WOOD AND THEN YOU SEE THE BRILLANT COLORS OF THE MANZANITA WOOD.
IT CAN TAKE UPWARDS OF 100 HOURS OR MORE TO COMPLETE A TABLE BASE. SOMETIMES A LITTLE RESIN WORK IS ADDED TO AREAS TO FILL IN OR TO STRENGTHEN THE PIECE.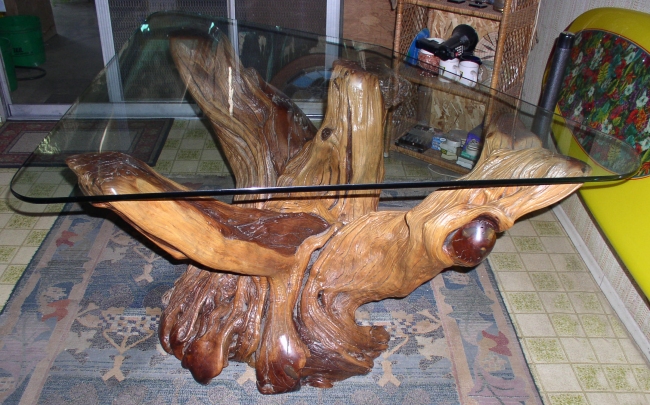 Office / Dining Room / Nook Table $5,000.
Dimensions: 53" W x 36" D x 29" H
Weight: 300 lbs.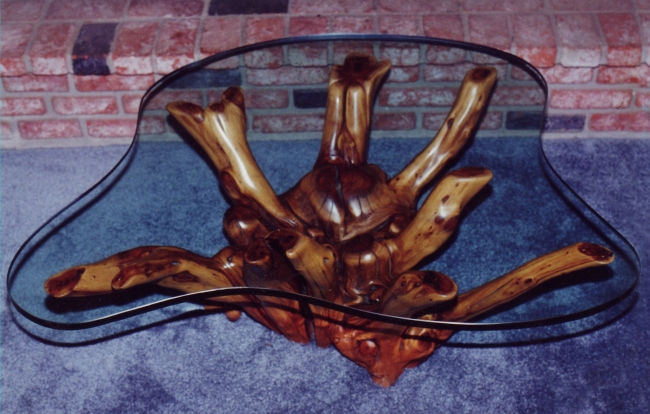 Coffee Table $1,399.
Dimensions: 40" W x 26" D x 16" H
Weight: 150 lbs.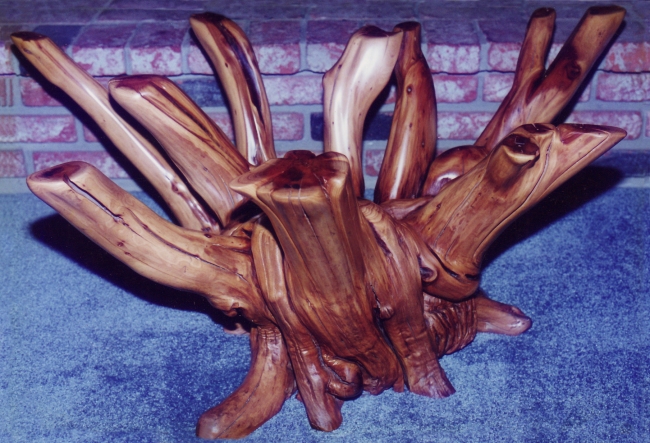 Coffee Table (without glass)
MANAZANITA TABLE BASES AVAILABLE WITHOUT GLASS. YOU CAN CHOOSE THE GLASS THAT FITS YOUR AREA.
A TABLE BASE CAN BE USED WITH DIFFERENT SIZES AND CONFIGURATION OF GLASS TO CREATE THE TABLE YOU WANT. IF YOU ARE A WOOD GUY OR GAL, YOU MIGHT WANT AN UNFINISHED PIECE TO DO YOURSELF.
I HAVE MANY LAMP AND TABLE BASE PIECES. TREAT YOURSELF TO A ONE OF A KIND TABLE OR LAMP. IT IS A PIECE OF ART.
| | |
| --- | --- |
| | |
| $239.00 | $259.00 |
FINDING THESE OLD MANZANITA PIECES IS PRETTY HARD AND A GRIND. FOR ONE THING YOU HAVE TO KNOW WHERE TO FIND THE RIGHT MANZANITA. ANOTHER IS SELECTING THE RIGHT PIECES, WHICH IS KEY.
EXCAVATING, TRANSPORTING. A LOT OF MUSCLING, CHAIN SAWS, A LOT OF DIFFERENT HAND TOOLS AND A BEEFY 4X4 PICKUP, WENCHES AND LEVERAGE HELP MAKE IT A WILD ADVENTURE ALONG WITH HAVING TO USE A LOT OF INGENUITY ON MOST SITES. EVERY SITE IS DIFFERENT – SOME ARE ON STEEP SLOPES ON A HILL, OTHER SITES ARE, FOR EXAMPLE AN ANCIENT MANZANITA GROVE. FOR THE MOST PART NONE ARE EASILY ACCESSIBLE.